Lumatek ATS300W Pro
search
search
search
search
search
search
search
search
search
Tax included
Available immediately
Discreet packaging and protected
Delivery 24 to 48 hours - Free from € 100
Exchange for 30 days - 2 year warranty
ATS300W PRO
The ATS LED range stunned the grow lighting industry with its performance, practicality and beauty. Come and get to know the ATS300W Pro.
Now, Lumatek brings you even closer to the perfect LED fixture for tight grow areas, the ATS300W Pro. Get ready to grow, the brightest just got brighter.
The higher specification Lumatek ATS300W Pro LED is a light-weight fixture producing high levels of PPF of 816 µmol/s and a very high efficacy of up to 2.7 µmol/J, covering perfectly up to 1x1m grow areas.
With the advances in technology and fixture performance, high quality LED horticultural lighting is now a credible option offering significant return on investment to cultivators. Lumatek ATS Pro full spectrum horticultural LED solutions balance light quality (spectra) with light quantity (intensity and duration) sufficient to provide sole-source or supplemental grow lighting for propagation, vegetative and flowering growth periods of indoor-grown crops.
The fixture efficacy will vary depending on the Input Voltage used.
The array of the new ATS Pro range create a uniform spread of light at short distance from the crop enabling good penetration of canopy without hotspots and excessive heat. The innovative heat sink and use of passive natural convection has eliminated the need for a fan, reducing noise output and significantly increasing the life span of the fixture as it has no moving parts.
For different cultivars, propagation and vegetative growth periods this agile fixture may be dimmed without losing efficiency. The high efficiency and low powered LED configuration reduces the temperature of the LEDs increasing the output and improving light maintenance.
ATS300W PRO Range
The new Pro line of ATS is built using high quality Lumatek controllable drivers and latest generation higher efficiency top bin White, Red & Far Red Diodes.
The upgraded diodes are now more evenly distributed across the whole length of the light bars resulting in a larger and more even light spread and footprint.
Other new features of this line include: New IP65 rating; Clear Glue protection cover technology on the LED bars, resulting in higher light transmittance of 99% without light loss, extended lifetime of diodes and extra corrosion resistance; And new Control capability with the Lumatek Control Panel Plus 2.0.
Full Spectrum
Lumatek LED grow light solutions use a blend of white, deep red & far red LEDs to produce a highly efficient light source calibrated to provide high intensity, stable and uniform output for optimal light absorption.
Previous generations of LED grow lights used a mixture of royal blue and deep red LEDs to target chlorophyll absorption peaks. Whilst these solutions worked adequately they missed out important spectra for quality plant growth, lacked penetration through dense canopies and provided poor visibility for inspecting and maintaining grow rooms.
Passive cooling
Lumatek's innovative design and advancement in LED technology has produced a high powered LED grow light with passive convection cooling. This fanless design means no moving parts so Lumatek LED fixtures are extremely robust with a long life span and operate silently.
External Control
This Lumatek LED fixture can also be externally controlled with a Lumatek digital lighting controller (Digital Panel Plus 2.0) featuring light timing, automated dimming (1% increments), temperature safety control, Sunrise & Sunset Mode for up to 100 fixtures per controller.
Universal Control Systems Compatibility
Lumatek LED Fixtures can be fully controlled with either the Lumatek Digital Panel Plus 2.0 or with any other Control System that utilises 0-10V output signal. Even if your Universal Controller has an RJ port interface, you can still run our LEDs by using a signal converter RJ to 0-10V control adaptor.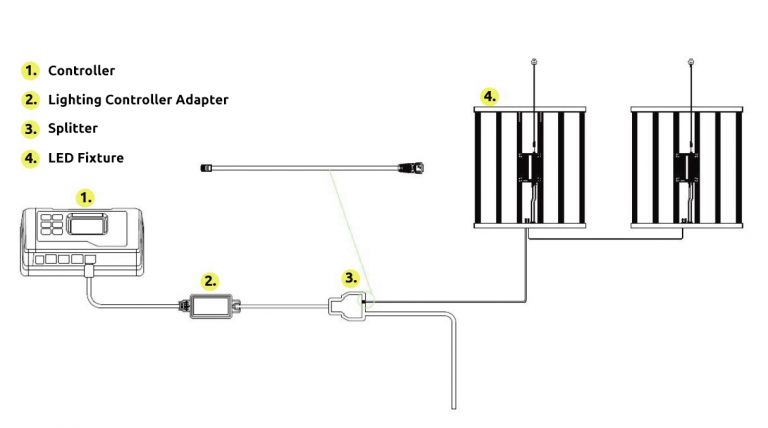 KEY SPECIFICATIONS
PRODUCT CODE: LUMLED300P
EFFICACY: up to 2.7 µmol/J
PPF: 816 µmol/s
INPUT VOLTAGE: 220-240V, 50-60Hz
INPUT POWER: 310W (±2%)
FOOTPRINT: Up to 1x1m
WATERPROOF: IP65
LIFETIME: +60 000 hrs
LIGHT DISTRIBUTION: 120°
LIGHT SOURCE: Higher Spec White, Red & Far Red Diodes
DIMMABLE: OFF-25%-50%-75%-100% with 0-10V Light Dimmer (Included)
EXTERNAL CONTROL: With Lumatek Digital Panel Plus 2.0
WEIGHT: 5.2 Kg
DIMENSIONS: 559.5x559.5x71.6mm
SPECTRUM: Full Spectrum +
BTU (WITH DRIVER ATTACHED): 1082 BTUs/h (Max)
BTU (WITH DRIVER REMOTE): 1006 BTUs/h (Max)
FEATURES
- High Efficacy up to 2.7 µmol/J
- High PPF output for high intensity 816 µmol/s
- High quality Lumatek LED driver
- New Clear Glue protection cover technology on LED bars
- Top bin LEDs
- Balanced full spectrum
- Improved light spread and uniformity
- External control with Lumatek Control Panel Plus 2.0
- Compact design ideal for up to 1m x 1m grow area
- Fully Dimmable
- User friendly Plug & Play Assembling

ITEMS INCLUDED:
- 1 x ATS300W Pro LED Fixture with Driver
- 1 x Power Cable 230V
- 1 x 0-10V Light Dimmer + Velcro
- 2 x Metal Cable Hangers
- 1 x Manual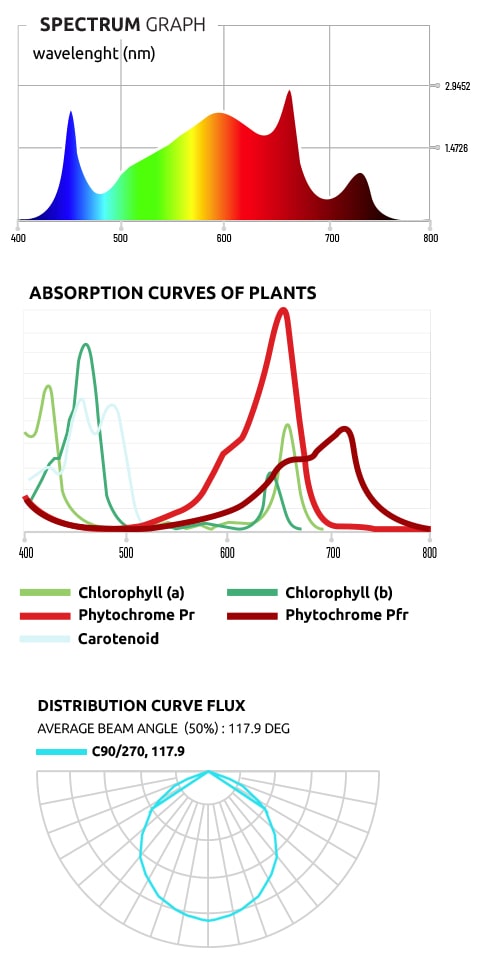 Reviews
By
Olivier B.
on 19 Feb. 2023 (
Lumatek ATS300W Pro
) :
Ce matériel respire la qualité.
J'avais jusqu'ici du matériel que je pensais assez correct.
Je passe régulièrement au magasin de Eghezée et un jour, j'ai eu l'occasion de voir la Zeus 600W 2.9 en action..
Cela faisait un moment que je me renseignais sur la marque, que je posais des questions aux vendeurs, et j'ai craqué pour la ATS300W PRO fin janvier.
Au début il faut faire le changement de manière progressive et ne pas hésiter à mettre la Lumatek 2 fois plus haute que vos anciennes lampes à Led.
Après au fil du temps, vous pourrez redescendre la hauteur à des niveaux plus "classiques".
En tous les cas, sur mes cultures de piments, cette lampe à fortement accéléré la pousse des plants.
J'en suis absolument ravi.
Report abuse